When it comes to full-mouth restorations, Dr. Mehrdad Fay has the skills and experience needed to offer reliable implant-supported prostheses. Also known as hybrid bridges, these restoration options are kept in the proper position with dental implants, so our patients can enjoy the function, security and beauty of a restored smile.
We offer two types of material for our restorations: Zirconia and Resin.
Resin
PMMA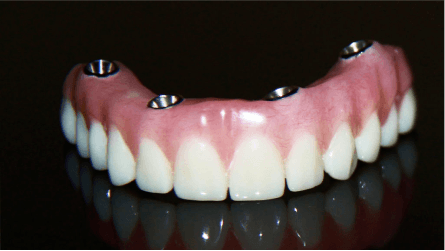 Held in place by four dental implants, PMMA and titanium prostheses use a reinforced titanium bar as their base. They are covered in a strong, composite material designed for comfort and resistant to discoloration and ware. This robust, durable bridge is a permanent solution for restoring the functionality of your smile.
$46,500
per full-mouth restoration
Ceramic required for single arch
NANO-CERAMIC®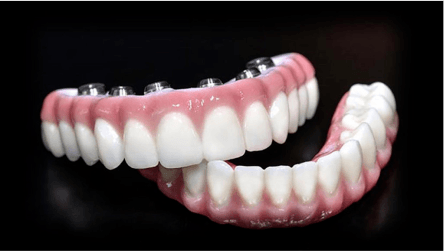 Placed atop six dental implants, these full-arch prostheses use a flexible ceramic material to imitate the natural feel and appearance of your teeth. They are lighter that zirconia restorations and provide a solid, strong fix for missing teeth.
$46,500
per full-mouth restoration
$28,500
per single arch restoration
Crystal® Ultra Resin
Crystal Ultra is a durable, shock-absorbent, nano-ceramic material used to create natural-feeling prosthetic teeth. It is especially effective when used in full-arch rehabilitation. Some other benefits of Crystal Ultra include:
Comfort — As the only flexible ceramic, Crystal Ultra is comfortable as well as durable.
Durability — Resistant to chipping and impervious to liquids.
Adjustability — A professional dental team can make quick and easy adjustments, relines and repairs.
Simplicity — Crystal Ultra's simple, efficient fabrication, with no sintering required, makes it appealing to doctors and patients alike.
Strength — Eat what you want without worrying your restoration! Crystal Ultra is as strong as natural teeth and six times stronger than acrylic dentures.
Light Weight — 60% lighter than Zirconia arches and as gentle as your natural dentation, Crystal Ultra feels as natural as it looks.
Durability and Shock Absorption
Some patients with ceramic restorations will complain about the "clacky" sound their prosthetic teeth make, but the gentleness of Crystal Ultra eliminates that issue, offering a hardness that closely matches natural teeth. In fact, at 492MPa, Crystal Ultra offers the greatest compressive strength of nanoceramic materials, six times stronger than traditional acrylic. This makes it ideal for cosmetic and implant dentistry alike. Because of its high ratio of polymers to ceramics, it is also one of the most elastic hybrid ceramics available, as well as durable.
There are over 9000 successful Crystal Ultra restoration cases.
| Benefits | Crystal Ultra | Zirconia | Acrylic |
| --- | --- | --- | --- |
| Feels Like Natural Teeth | | | |
| Durable | | | |
| Light Weight | | | |
| Shock Absorbing | | | |
| Flexes Under Stress | | | |
| Stain Resistant | | | |
| Repairable Chairside | | | |
| Adjustable Chairside | | | |
Hours
| Day | Hours |
| --- | --- |
| Monday | 9:00 a.m. - 5:00 p.m. |
| Tuesday | 9:00 a.m. - 5:00 p.m. |
| Wednesday | 9:00 a.m. - 5:00 p.m. |
| Thursday | 9:00 a.m. - 5:00 p.m. |
| Friday | 9:00 a.m. - 5:00 p.m. |
| Saturday | Closed |
| Sunday | Closed |
Have questions?