As a specialty prosthodontic and full-mouth reconstruction office, Fresno Prosthodontic Centre is devoted to providing our patients with the best possible care. To help facilitate this, Dr. Mehrdad Fay is proud to feature a completely digital office and lab, with advanced dental technology in Fresno, California. We invite you to learn more about our equipment below and call 559-439-9990 if you would like to schedule an appointment with our prosthodontist.
CAD/CAM Technology
CAD/CAM (computer-aided design/computer-aided manufacturing) is a versatile technology that can be used in a variety of restorative treatments. Using CAD/CAM technology, our skilled prosthodontist can design and create a variety of restorations, including zirconia crowns and implant-supported dentures, as well as plan a more precise and effective treatment to meet your needs. State-of-the-art equipment allows us to produce any single-tooth restoration the same day as your procedure so that you can complete your appointment in one day rather than stretching out your treatment over two or more visits to our office.
During your appointment, our prosthodontist will:
Examine your teeth to determine an appropriate treatment plan
Remove any weakened or decayed tooth material
Capture a digital picture of your mouth
Convert the picture into a 3D model on the computer screen using CAD/CAM software
Create your restoration using the 3D model
Immediately mill your restoration from a block of material that matches the color of your natural teeth
Within a few minutes, your new restoration will be complete! Our prosthodontist will check to ensure that it fits properly, polish it and bond it into place.
For more information about CAD/CAM technology and to schedule your consultation with our prosthodontist, please contact our office today.
Cone Beam 3D Imaging
Our prosthodontist and team are pleased to use cone beam imaging technology in our office. Also known as CBCT scanning, this 3D imaging technology allows us to see a complete view of your teeth, mouth, jaw, neck, ears, nose and throat. This comprehensive view of your mouth and all supporting structures is highly detailed, giving our prosthodontist and team more information than standard digital X-rays so that we can provide you with exceptional care.
3D cone beam imaging is highly effective in diagnosing and evaluating a broad range of dental conditions, as well as planning treatments.
Our prosthodontist may use cone beam imaging to:
Plan and carry out implant placement procedures.
Evaluate your jaws and face.
View a comprehensive image of the head and neck.
Diagnose tooth decay and other dental problems.
Diagnose developing endodontic issues.
Plan root canal treatments.
Analyze and determine the extent of dental and facial trauma.
Plan and track the progress of orthodontic treatment.
Visualize abnormal teeth.
Evaluate TMJ disorders and any resulting damage.
For more information about cone beam imaging, and to schedule an appointment with our experienced prosthodontist, contact our office today. We are committed to providing you with effective, individualized care that meets your unique needs.
Digital Facebow Technology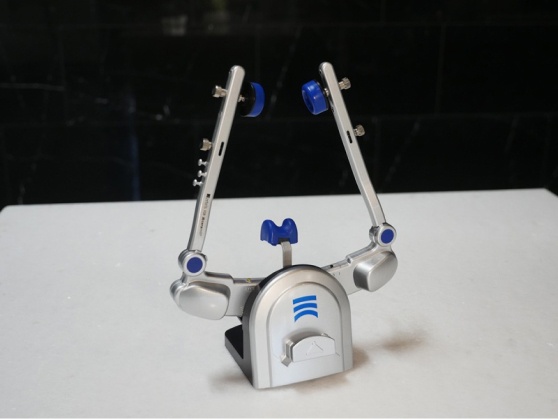 In the past, dentists relied on the naked eye and trial and error in order to create and fit dental restorations. This led to long office visits, miscommunication between doctor and patient, and ill-fitting restorations. Thankfully, that is all in the past. With digital facebow technology, we can easily plan your restoration for optimal health and comfort.
Whether you need a single-tooth restoration or a full-arch solution, our prosthodontist can utilize our digital facebow to precisely measure the movement of your jaw and position of your bite, allowing us to better plan your treatment and reduce your time in the dental chair.
Other benefits of this technology include:
Comfortable, wireless setup
Quick scanning speed
Highest accuracy of fit
Less time waiting for you
Facial Scanning Technology
Facial Scanning Technology allows us to create fully digital, photorealistic scans of your face, allowing us an unprecedented ability to plan and create restorations for your smile. This means we can see how all aspects of your oral health will be impacted by a planned treatment before it is started.
Other benefits of Facial Scanning Technology include:
High speed. In less than a second, we will have a full picture of your face.
Ease of use. The digital model of your face is simple for our prosthodontist to work with, making it easier for us to find the ideal solution for your needs.
Collaboration with you. The fully digital workflow makes it easy for us to show you options for treatment and decide together on what you want for your smile.
Facial Scanning Technology scanning makes your visits easier and more effective than ever before, and we are excited to show you more about this fantastic addition to our practice.
In-House, Fully Digital Dental Lab
Our office is proud to feature an in-house dental lab. Having a lab in our practice enables our prosthodontist and team to create crowns, bridges, dentures and other oral prosthetics and appliances on-premises, rather than contracting with an outside dental lab to complete your restoration. This allows us to ensure that each restoration or appliance we create is of the highest quality while reducing your waiting time between appointments.
Benefits of having our in-house dental lab include:
Complete quality control, so that we can better ensure that your treatment will provide you with an excellent solution for your smile.
The ability to minimize the time you go without a solution to your smile or have to live with missing teeth.
Creating crowns, bridges, dentures and oral appliances in significantly less time than usual.
Providing all your treatments in-house. We rarely refer our patients to other dentists or specialists, as we can provide all your care in a single location.
We welcome you to call our office today to learn more about our on-site dental lab and the advantages it provides you. We will be happy to answer any questions you may have and help you schedule an appointment with our experienced prosthodontist.
Intraoral Digital Scanning
Our prosthodontist and team use a digital scanner to take 3D images of the inside of your mouth. This state-of-the-art technology works to capture detailed images of your teeth and supporting structures in full color, allowing our prosthodontist to distinguish between healthy and diseased tissue. Using the images captured by our digital scanner, we can more quickly and accurately diagnose problems, create digital models and plan treatments to improve your oral health. The digital models also help ensure that any restorations or oral appliances you may receive will fit and function properly for you.
Digital scanning is a quick and comfortable process. Our prosthodontist or a member of our hygiene team will insert a small wand into your mouth. This wand is easily maneuverable and will capture images as it passes over your teeth to provide an immediate, comprehensive and detailed view of your teeth and mouth. The scanning process can be stopped and started as needed, and the wand can be removed from your mouth if you feel uncomfortable. Pictures taken by the scanner are backed up every few seconds so that you will not need to sit through a second scan.
If you have any questions about digital scanning or would like to set up an appointment with our prosthodontist, please call our office today and speak with a member of our team.
Our goal is to make your experience with us as efficient and comfortable as possible. Each type of technology used in our office has its own benefits, from the detailed images captured by X-rays to the improved results that come from using the latest treatment materials and techniques. We encourage you to contact our office and speak with a member of our team if you have any questions about our cutting-edge technologies. Give us a call today to find out more and make your appointment!
Hours
| Day | Hours |
| --- | --- |
| Monday | 9:00 a.m. - 5:00 p.m. |
| Tuesday | 9:00 a.m. - 5:00 p.m. |
| Wednesday | 9:00 a.m. - 5:00 p.m. |
| Thursday | 9:00 a.m. - 5:00 p.m. |
| Friday | 9:00 a.m. - 5:00 p.m. |
| Saturday | Closed |
| Sunday | Closed |
Have questions?