When it comes to restoration options, a removable implant-supported prosthesis is a simple but effective solution for replacing missing teeth. Supported by a minimum of four dental implants and a titanium thimble bar, the removable implant-supported prostheses that Fresno Prosthodontic Centre offers in Fresno, California, can provide better stability and retention for the patient than traditional dentures.
Since each patient's smile has unique needs, the number of dental implants used to support the patient's prosthesis will vary from case to case, however, overdentures supported by four implants is the most commonly recommended option, providing better support, less denture extension (flanges), and greater comfort. At our office, each patient will have a thorough consultation with our prosthodontist to determine which restoration option is best suited to enhance their oral health and function.
Benefits of Removable Implant -Supported Prostheses:
Greater supported retain than traditional dentures
Much greater comfort eating most types of food
Easier cleaning and maintenance
Traditional Removable Prostheses:
Denture flanges may make removable dentures difficult for some patients to use
Removable prostheses require removal for daily hygiene routine
May not be used as comfortably as fixed prosthesis for chewing hard foods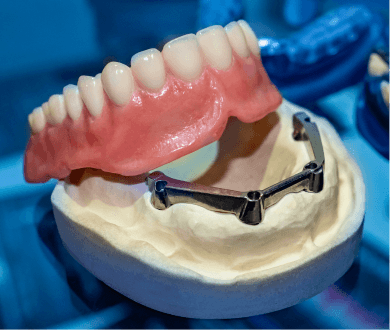 Am I a Good Candidate for a Removable Implant-Supported Prosthesis?
There are many reasons a patient may be interested in an implant-supported removable prosthesis. They may have:
A need or desire for easy cleansability
A preference for removable teeth
A desire to improve their ability to eat their favorite foods
Significant bone loss from denture use
A desire to preserve their jawbone from future bone loss
Experience with traditional dentures and desire for greater support and retention
Need for tooth extractions and desire to avoid conventional dentures
Low tolerance for denture flange extensions
If one or more of these describe you, you may be a good candidate for removable implant-supported prosthesis.
How Do Removable Implant-Supported Prostheses Work?
A removable implant-supported prosthesis is composed of three main parts. The first part are the dental implants themselves, which are embedded into the jawbone to create a stable support structure for your prosthesis. The second part is a titaniun thimble bar with precision attachements, which connect the implants to their restoration, fitting into the corresponding housing in the base of the prosthesis. When creating your restoration, the prosthodontist can modify the degree of friction, stability and retention according to your needs and goals. In the case of removable implant-supported prostheses, the third part of your treatment is the implant-supported prosthesis.
The dental implants are able to prevent vertical displacement of the prosthesis, and our team generally recommends four implants and a titanium bar to hold the prosthesis fully in place, allowing for three-dimensional stability and anti-rotation benefits. This way, our patients do not have to worry about displacing their denture while eating or speaking.
The Treatment Process
The three most important people in the treatment process are the patient, the oral surgeon and the restorative dentist, and the long-term success of an implant-supported prosthesis requires the collaboration of all three. The oral surgeon will place the dental implants and work with the prosthodontist, who creates the prosthetic teeth (overdentures) with input from the patient. The entire process will look like this:
The oral surgeon examines the quality and quantity of the patient's jawbone using cone beam imaging technology.
The restorative dentist examines the patient's oral health and bite, discusses aesthetic goals with the patient and takes impressions of patient's mouth that they will use to design the optimal dental restoration. They will also fabricate a temporary denture to ensure the final restoration fits well and meets all of the patient's expectations.
The oral surgeon creates a three-dimensional, virtual implant placement plan using the CBCT images they collected of patient's jawbone. They will use that plan to 3D print a surgical guide used during the placement procedure.
During the implant placement, the surgeon will use the surgical guide they created to maximize their precision and accuracy.
A healing period lasting three to four months allows the dental implants to fully heal and integrate with the patient's natural jawbone. During this time, the patient will use the transitional denture created by the restorative dentist.
The restorative dentist creates the patient's final overdenture fit to their specific requirements and implant abutments. Final adjustments are made with input from the patient, ensuring optimal comfort, function and aesthetics.
The Prosthetic Material
Dr. Mehrdad Fay and our team uses resin ceramic material to create our implant-supported prostheses. This durable, shock-absorbent nano-ceramic material is ideal for creating prosthetic teeth that look and feel natural, especially when it comes to full-arch rehabilitation.
As one of the only flexible ceramic materials available, resulting from its high ratio of polymers to ceramics, resin ceramic is as comfortable as it is durable, resistant to chipping and easy to modify for quick adjustments, relines and repairs. It is as strong as natural enamel and six times stronger than acrylic dentures while still being lightweight and as gentle as nature teeth. Its efficient fabrication also requires no sintering, making it an appealing choice for both doctors and patients.
One of the many benefits of resin ceramic material is that it feels natural, avoiding the "clacky" sound sometimes associated with prosthetic teeth and remaining 60% lighter than zirconia arches. At 492MPa, resin ceramic also offers the greatest compressive strength of nanoceramic materials, making it the ideal material for cosmetic and implant dental treatments.

Hours
| Day | Hours |
| --- | --- |
| Monday | 9:00 a.m. - 5:00 p.m. |
| Tuesday | 9:00 a.m. - 5:00 p.m. |
| Wednesday | 9:00 a.m. - 5:00 p.m. |
| Thursday | 9:00 a.m. - 5:00 p.m. |
| Friday | 9:00 a.m. - 5:00 p.m. |
| Saturday | Closed |
| Sunday | Closed |
Have questions?